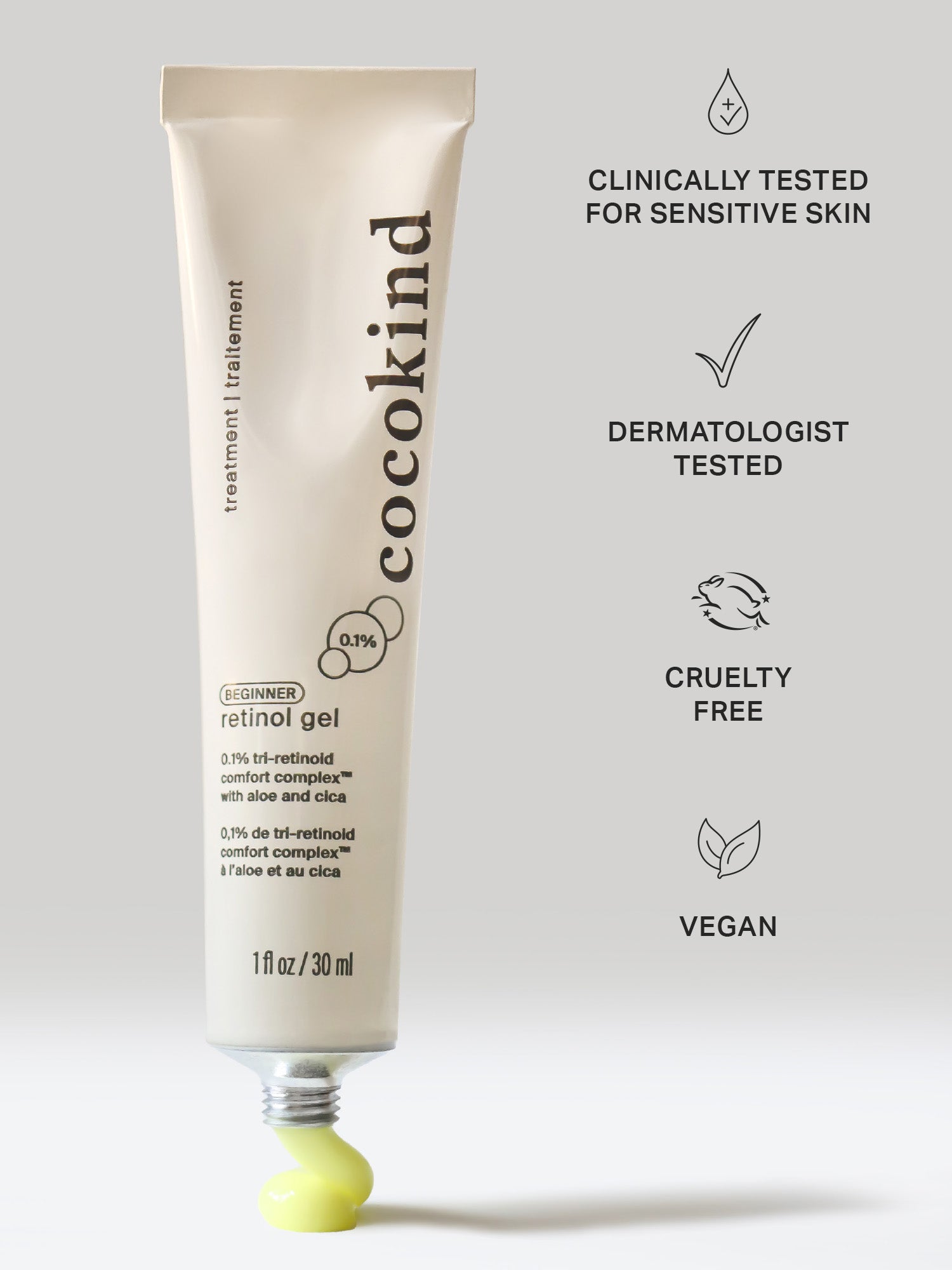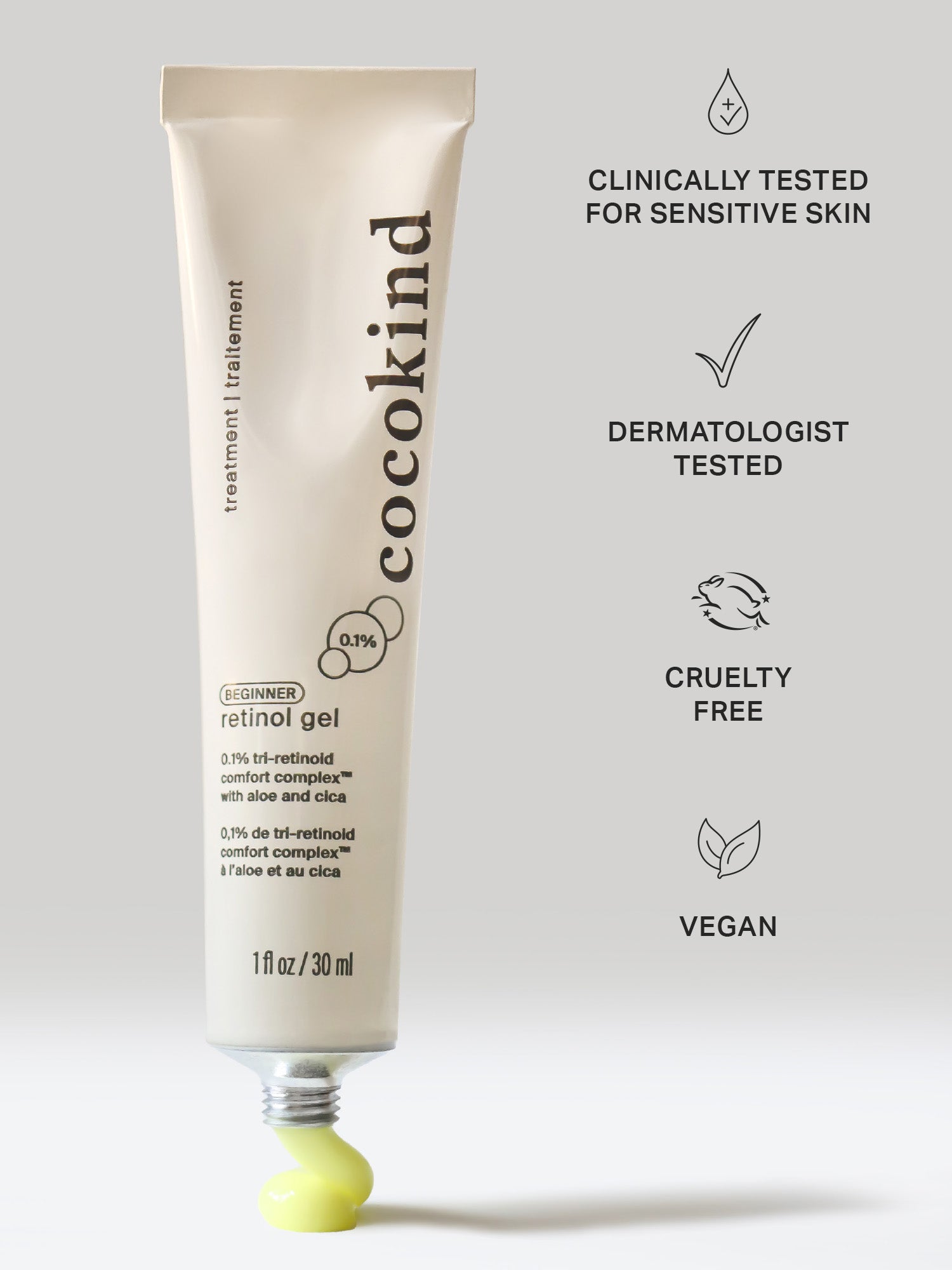 retinol at 0.05%, retinaldehyde (encapsulated retinal) at 0.025%, hydroxypinacolone retinoate (granactive retinoid) at 0.025%
centella asiatica extract (cica), aloe barbadensis leaf extract, sodium hyaluronate, glycerin, tamarindus indica seed polysaccharide, fructooligosaccharides, beta vulgaris (beet) root extract, propanediol, caprylyl glycol, hexylene glycol
hydroxyethyl acrylate/sodium acryloyldimethyl taurate copolymer, tocopherol, cellulose, etrasodium glutamate diacetate
water, pentylene glycol, dimethyl isosorbide
squalane, caprylic/capric triglyceride, coco-caprylate/caprate
allantoin, glycine soja (soybean) oil, ethylhexylglycerin, potassium lactate, lactic acid
carbon emissions
75 uses / tube | 1 use = 1/12 teaspoon / 0.4 ml
How this relates to daily life
Commuting alone

404g / mile

Cotton tshirt

4340g / shirt

Water bottle

358g / bottle
made with ethical labor practices
cap
primary material: virgin PP plastic
box
materials: FSC paper with soy ink and water-based coating
Frequently asked questions
Retinol is beloved for its wide range of benefits. First, it effectively stimulates collagen production, reducing fine lines and wrinkles, and improving skin texture. Second, retinol's acne-fighting capabilities help unclog pores and prevent breakouts, making it versatile for those concerned with acne and/or signs of aging.
Retinol helps boost collagen production and skin cell turnover, a natural renewal process that happens in your skin, which makes your skin look smoother and younger.
It's totally up to you! If you are concerned about fine lines, wrinkles, uneven texture, and/or breakouts, it's a good time to add retinol to your routine. Retinol, like SPF, has major preventative benefits as well. Early use of retinol can actually help prevent new fine lines and regularly decongest pores.
There are different strengths of retinol based on the percentage of retinol in the formula.

0.01-0.3%
These lower concentrations are suitable for beginners or those with sensitive skin as they are less likely to cause irritation.

0.3-0.7%
These concentrations are considered moderate and are often used by individuals with some retinol experience.

0.7%-1%+
These are considered high-strength retinol products and are typically recommended for those with more advanced signs of aging or specific skin concerns. However, they can be more likely to cause irritation so you might expect increased side effects like dryness, flakiness, and redness. At this level, you can also consider meeting with your dermatologist to see if prescription tretinoin is right for you.

We chose to formulate our Beginner Retinol at 0.1% and clinically tested this for sensitive skin. We suggest you start using Beginner Retinol Gel every other night and work up to nightly use when you feel comfortable. If this percentage works well for your skin and you are happy with the results, you can stay here forever!
You're playing the long game (think 4-6 months) with retinol and making it a part of your consistent routine will give you the best results while preventing future fine lines and premature aging from forming. In the short term, you can expect benefits like smoother skin, reduced texture, and a more youthful glow even after the first few weeks.
We formulated our Beginner Retinol Gel to be easy to use. These tips will help you get started:
Apply at night, after cleansing and toning, and before any serums or moisturizer.

Pair with hydrating and moisturizing products like

Ceramide Barrier Serum

and

Resurrection Polypeptide Cream

.

Wear SPF during the day to protect your skin and the benefits of retinol
The only hard and fast rule with Beginner Retinol Gel is to not overdo it with exfoliants. This doesn't mean you have to stop using them - just move exfoliants to your morning routine.
Ceramide Barrier Serum and Resurrection Polypeptide Cream are excellent products to pair with our Beginner Retinol Gel in your nighttime routine, offering enhanced firming benefits from the cream's polypeptide technology and providing hydration and barrier support through the ceramide serum. Follow up with Daily SPF during the day.
Our Beginner Retinol Gel has been clinically tested for sensitive skin, with 89% of testers in our study finding it suitable for their sensitive skin. We understand that not all retinol products are safe for sensitive skin, and retinol is a potent ingredient. However, we intentionally formulated our beginner retinol gel to address this concern. Our tri-retinoid comfort complex(™) is designed to improve the appearance of fine lines and uneven texture without causing irritation, making it an excellent choice for both beginners and those with sensitive skin. Additionally, to ensure your skin stays comfortable, we've added a soothing blend of aloe and cica to prevent dryness and flaking.
Beginner Retinol Gel is clinically-tested for sensitive skin and was made without fragrance, essential oils, and known/common allergens. We recommend consulting a doctor for specific recommendations. If you do use a retinol and have eczema, we would highly encourage using barrier supporting products and ingredients after to soothe skin (think ceramides, moisturizers, etc.).